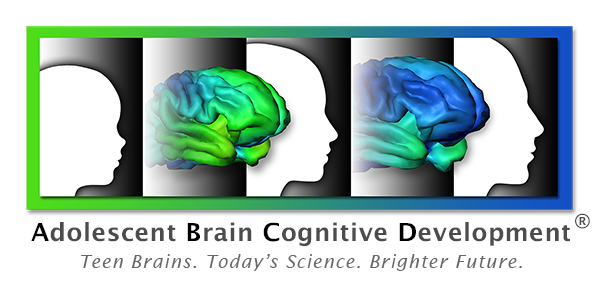 What is the ABCD Study?
Visit ABCDStudy.org to learn more.
Adolescence is a time of extraordinary physical, emotional, and intellectual growth. It is also a period of increased vulnerability when risky behaviors emerge as youth attempt to navigate an increasingly complex world. Thanks to recent technological advances, we can now explore, in unprecedented detail, the biological and environmental factors that influence young people's ability to successfully navigate this protracted and challenging phase in their lives. 
The ABCD study (ABCDStudy.org) is the largest long-term study of brain development and child health in the United States. The ABCD Research Consortium consists of a Coordinating Center, a Data Analysis, Informatics & Resource Center, and 21 research sites across the country, which have invited 11,880 children ages 9-10 to join the study. Integrating structural and functional brain imaging with genetics, neuropsychological, behavioral, and other health assessments, the ABCD Study will increase our understanding of the many factors that can enhance or disrupt a young person's life trajectory.
For more information go to ABCDStudy.org, or email AdolescentBrain@mail.nih.gov
Study Enrollment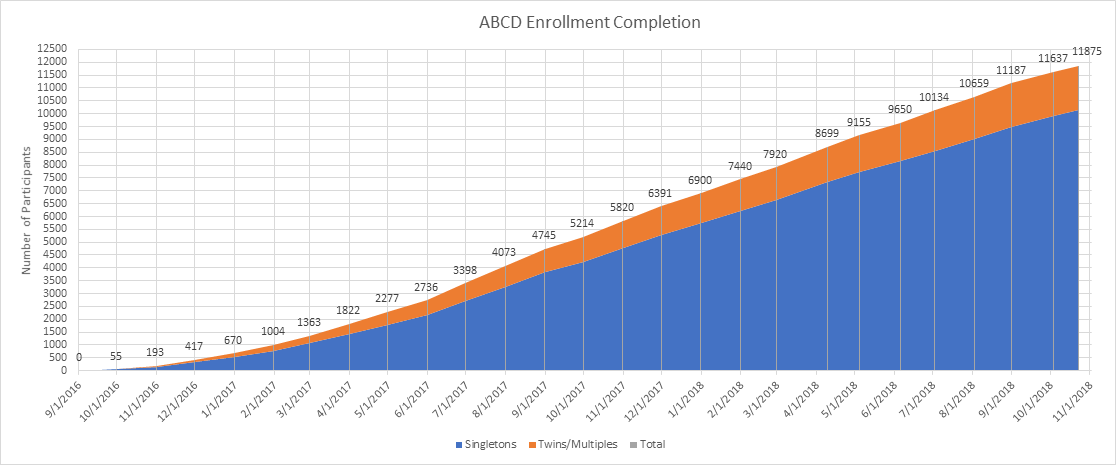 ABCD Study has enrolled 11,875 participants – meeting the study's total projected enrollment
Adolescent Brain Cognitive Development Research Sites Map
The map below shows the locations of the research sites for the Adolescent Brain and Cognitive Development (ABCD) Study. For information about the project investigators (PIs) and affiliated institutions visit https://abcdstudy.org/sites/abcd-sites.html.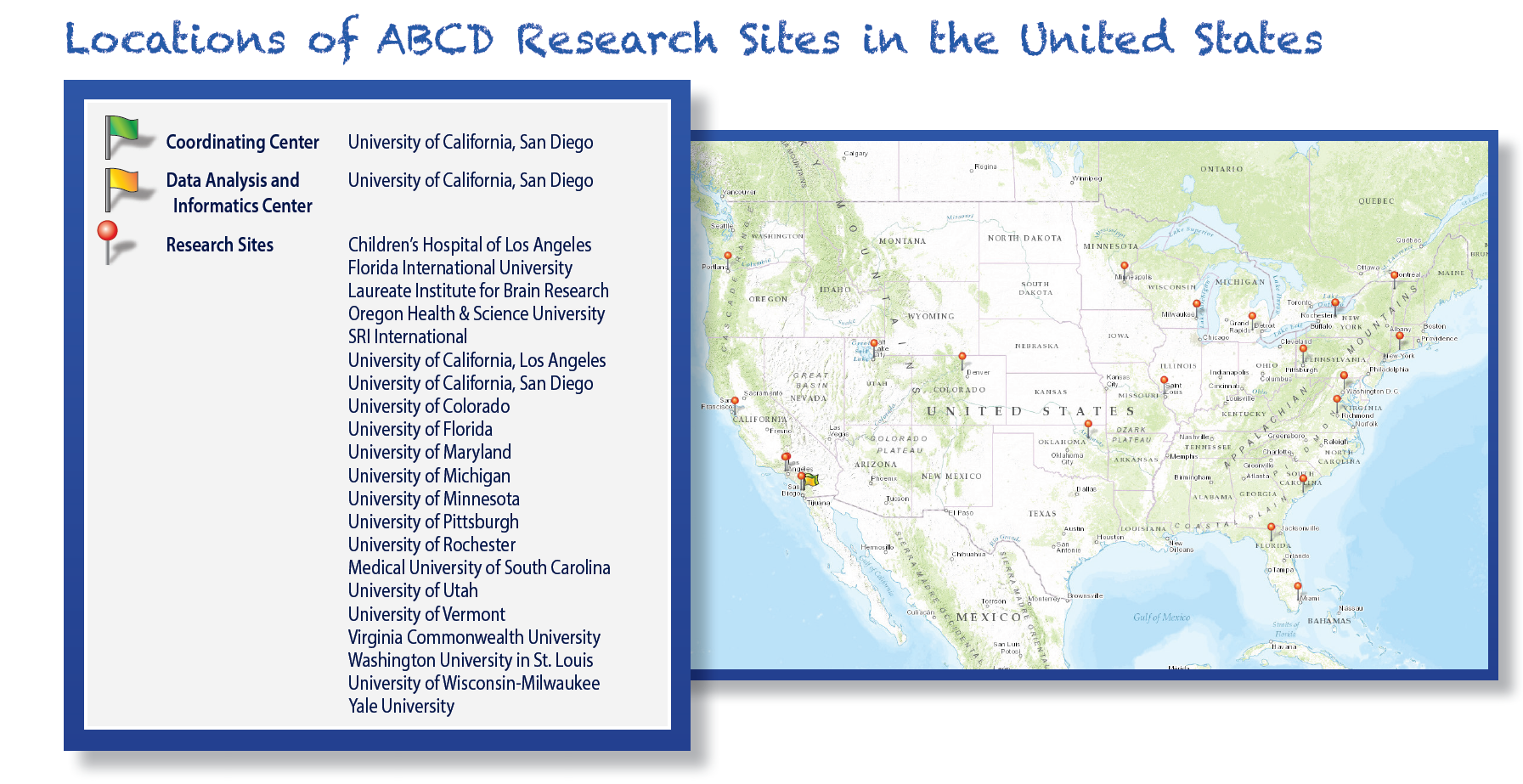 History of the ABCD Study
The Collaborative Research on Addiction at NIH (CRAN) is a partnership between the National Institute on Alcohol Abuse and Alcoholism (NIAAA), the National Institute on Drug Abuse (NIDA), and the National Cancer Institute (NCI) that was created in 2013 to foster research in poly- or multiple substance use. From its inception, CRAN partners recognized the urgent need for a better understanding of the long-term impact of substance use and other environmental exposures on the developing brain and functional outcomes.
Advances in neuroimaging research had already shown that adolescence entails dramatic changes in brain structure and function. This knowledge has intensified long standing concerns about the fact that the use of potentially addictive substances typically begins during this period, since it helps explain why the developing brain may be more vulnerable to drugs' short- and long-term effects. There is much we still do not know about how drug use and other experiences during adolescence influence development to promote or interfere with later healthy outcomes.
Among the pressing questions identified at this early stage were:
To what extent do drug use or other experiences change the adolescent brain, and to what extent do brain vulnerabilities (as a result of genetics, injury, or other environmental factors) lead to drug use and other adverse outcomes?
How do different types of substance use interact, and can the effects of individual drugs be disentangled in individuals who use more than one?
What impacts do diverse patterns of substance use (for example, moderate versus heavy marijuana use) have on brain development, academic achievement, social functioning, and other aspects of life?
The time was right for launching a large-scale longitudinal study to answer these questions for the following reasons:
Technological and Scientific Advances – The scientific community is poised to take advantage of tools unavailable even just a few years ago. Developments in non-invasive neuroimaging have increased our ability to safely study the developing brain. We also have the tools to evaluate genetic versus environmental influences on development. And advances in informatics and "Big Data" are enabling researchers across the country (and world) to share and analyze anonymized data, rapidly expanding the types of scientific questions that can be answered.
Changing Drug Laws and Markets – Laws and policies governing the availability and use of alcohol, marijuana, and tobacco products are changing rapidly across the country. At the same time, new drugs (e.g., synthetic drugs) and new ways of taking drugs (e.g., vaping, dabbing) are rapidly transforming the drug-use landscape. Although there is much debate, no one yet knows how these changes might impact substance use and its consequences.
CRAN's goal was to create a well-characterized cohort of children before they start using substances and to follow them through the period of highest risk. Recognizing that substance use is only one part of the larger picture of adolescent development and wanting to take full advantage of the knowledge that will be gained from this project, CRAN invited other NIH Institutes and Centers (ICs) that had a vested interest in child and adolescent health to become partners in this venture.  
The Eunice Kennedy Shriver National Institute on Child Health and Human Development (NICHD) was a natural partner because of their interest in healthy brain development and the effects of traumatic brain injury in childhood.
The National Institute of Mental Health (NIMH) was another logical collaborator, since mental health disorders often begin in childhood or adolescence and frequently co-occur with substance use; understanding the factors that influence the course and severity of comorbid psychiatric conditions is a central NIMH goal.
Several other NIH Institutes and Centers then joined the initiative to answer questions of special relevance to their missions:
The National Institute of Neurological Disorders and Stroke (NINDS) is participating to better understand the impact of sports injuries (more than 50% of kids play organized sports) and traumatic brain injury during development.
The NIH Office of Behavioral and Social Sciences Research (OBSSR) is participating to investigate the role of numerous environmental and behavioral factors that affect growth and development, such as sleep, physical activity, and screen time.
The National Institute of Minority Health and Health Disparities (NIMHD) is participating to better understand various factors that lead to health disparities during adolescence.
Together, these NIH Institutes and Centers, with input from diverse scientific experts, professional organizations, and advocacy groups, determined the study's structure and goals. In 2015, the ABCD Consortium was funded to establish and follow a cohort of 10,000 children for a decade, recruiting participants at age 9 or 10, prior to adolescence. Data gathered from such a large cohort would allow for the first time the creation of standards of normal brain development (similar to what currently exists for height, weight, etc.) as well as the study of numerous facets of adolescent brain, cognitive, social, emotional, and physical development.
Explore